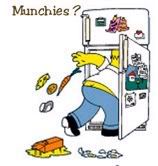 As the day drags on, I am constantly having the munchies.
I got up and made myself a sugar free hot chocolate....25 calories(I love this stuff and so glad that Swiss Miss got her crap togetha for the dieters, who need some cokit fix lol)
Had my bowl of oatmeal-160 calories
Before lunch could roll around, I was pacing....I snagged a fire roasted pepper for a snack(I know it sounds weird for a snack, but I love em and have jars of them on hand and they are low in calories....the whole jar is only 50 and so ....)
Lunch came and I had a Wasa Light Rye cracker(30 calories) with some natural peanut butter/sugar free seedless blackberry jam smeared on it a banana and a juice glass of 2%milk(not sure of the exact calories here, but since that is not summin I am a slave to, it's all good)
THEN, hehehe I had a sugar free jello- 5 calories
AND, I am thinking of what NEXT!
Yep, Eca is feeling betta....or sure as hell on her way in that direction.
I promised the girls some hot cinnamon rolls when they got home from school today....lawd, give me strength.